Game Menu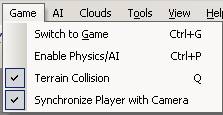 Overview
The Game menu provides commands to enable the game mode and test newly created features.
Game Menu Commands
Switch to Game
Jumps to game mode so you can play the level within the editor (CTRL+G) (to exit game mode press ESC).
Enable Physics/AI
Enables the physics and AI within the editor (CTRL+P).
Terrain Collision
Makes the editing camera collide with the terrain so you can't fly under the terrain surface (Q).
Synchronize Player with Camera
Sets the player to the position where the current editing camera is.