Procedural Breaking 3D Objects
The underlying physics technology is versatile enough to break many things, not only tree trunks. It is just a matter of setting up the assets. For the examples below we will concentrate on tree trunks, though.
Sample File

cut_shape.max
- tree example

sample_tree.max breakable cut out - example
General Setup in 3d applications
For the Trunk Material (!), turn on "physicalize" in the Material Editor. Set the Parameter for the physics to "default".


Important: Remove any proxy physics objects from parts you want to be breakable (i.e. trunk)
create a predefined mesh in an extra cgf file, which is used to "cap" the broken parts.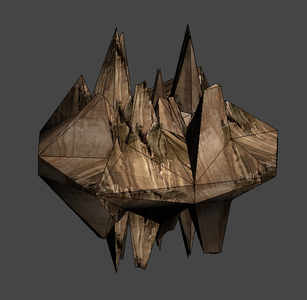 Setup in Sandbox Editor
In the Sandbox material editor, the trunk's material surface type needs to be set to "mat_wood_breakable".
The surfacetype defines the predefined mesh used to cap the tree trunk. The location and name of this mesh is stored in the surfacetype script.
Breakable trees need to be placed as vegetation objects.
Debugging
apply enough force to the object to break it. in Crysis explosions from rocketlaunchers or grenades were sufficient to check the functioanlity.